Vacuum Casting Machine for Sheets and Rods
​This
family of furnaces are used to produce high quality semi-finished product, like sheets or rods, starting by raw materials melted by induction heating in a protective atmosphere and then poured in vacuum into an ingot mould, that can be in copper, in graphite or other materials.
Melting and pouring phases are protected by inert gas, which can be chosen between Argon, Nitrogen or Helium.
The induction field is designed to guarantee a strong homogenization of the alloy thanks to the stirring effect of the magnetic field which works while the metal is being melted in the crucible.
The machine is fully automatic having a countless number of programs for every kind of alloy.
The control logic is provided with a PC based data acquisition system aimed to sample the process variables with reporting function after every casting cycle. Data can be display in graphic format or exported to external PC for analysis.
The furnace can be provided with an Oxygen analyser to control and monitor the ppm of oxygen present in the melting chamber during the cycle.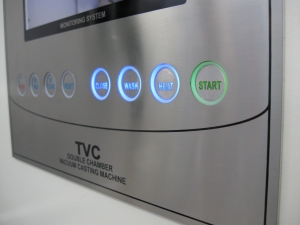 TECHNOLOGY and FEATURES

Gas Purging Procedure

Crucible loading operation introduces oxygen
The Gas Purging procedure removes the oxygen with Argon, Nitrogen or Helium gas.
Melting
Advanced Self Tuning thermoregulation (AST™) with exact temperature control of the melted alloys
Two Thermocouples Temperature Measurement:

One Thermocouple in the stopper
One Thermocouple inside the crucible wall

Medium frequency induction heating stirs the melted alloy and leads to a perfect homogeneity
Pulse Stirring Management (PSM™) for an extremely low frequency stirring
Injection and Flow Control
When the stopper lifts up, it is very important to control the injection rate to increase consistency in metallurgical properties
TVC has the unique feature to have the injection rate controllable and programmable (IRC™)
The metal exits the crucible with a narrow, constant and straight beam. Turbulences can be controlled and minimized acting on the program's parameters.
TVC12d-L
TVC25d-L
TVC35d-L
TVC45d-L
Crucible volume
500 cc
2-3 liter
4 liter
7 liter
Crucible capacity
7 kg Gold
4 kg Silver
42 kg Gold
24 kg Silver
56 kg Gold
32 kg Silver
90 kg Gold
50 kg Silver
Mould max diameter (mm)
150 / 200
350
350
350
Mould max height (mm)
300 / 400
600
600
600
Induction heating power
12 kW
25 kW
35 kW
45 kW
Vacuum pump
Internal
Internal
Internal
Internal
Pressure over vacuum
1 bar
1 bar
1 bar
1 bar
Max temperature
1250°C / 1600°C
Metal granulation
Autotest
Monitoring system for data acquisition
Mould check before casting
Vacuum leakage detector
Oxygen Analyzer
Remote assistance
Main alloys

Gold (Au), Silver (Ag), Copper (Cu), Brass, Bronze, Aluminium (Al) and their alloys

Provided -

Available on request